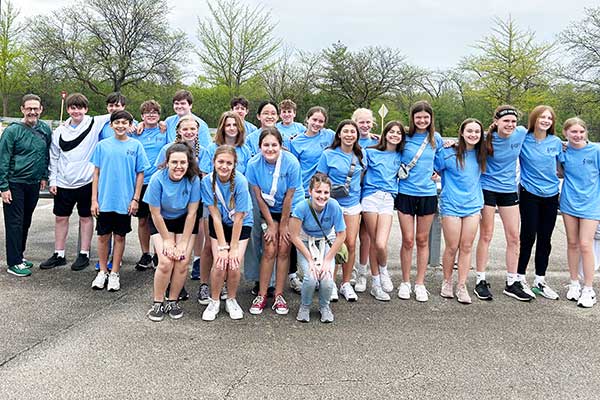 Our Prize Raffle has ended
Thank you for your support of kids!!
The 2023 Gift Basket Raffle Winners are….
January – Cindy D.
February – Charlie H.
March – Nancy W.
April – Tina L.
May – Alexis N.
June – Sharon L.
July – Patricia D.
August – Flicks
September – Melissa D.
October – Alex G.
November – Penney
December – Anna S.
Playstation-5  – Gail
The 2023 Stitches for Life Basket Winners are….
Mizzou – Kelly K.
Cardinals Basket – Linda K.
Holiday Towels – Cindy W.
Bath Time – Gally
Halloween Quilt – Beckham B.
Christmas Quilt – Brittany S.
—
Congratulations to all of our winners!
Winners have received a notification text  or email already
Thank you for supporting our band & choir program!
Gift Basket Raffles!
2023 BASKETS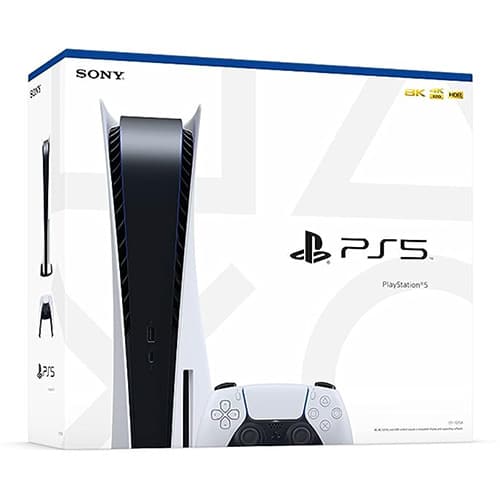 * Super Prize! *
Playstation PS5
BASKET CONTENTS
PlayStation 5 (PS5) Console 
Lightning Speed – Harness the power of a custom CPU, GPU, and SSD with Integrated I/O that rewrite the rules of what a PlayStation console can do.
Stunning Games – Marvel at incredible graphics and experience new PS5 features.
Breathtaking Immersion – Discover a deeper gaming experience with support for haptic feedback, adaptive triggers, and 3D Audio technology.
Release Date: Oct. 2022
Dimensions: 19 x 17 x 8 inches
Language: Multilingual
Item model number: CFI-1215A01X
Item Weight: 12 pounds
Batteries: 1 Lithium Ion battery (included)
WHAT'S INCLUDE IN THE BOX
DualSense Wireless Controller
HDMI Cable
AC Power Cable
Console Base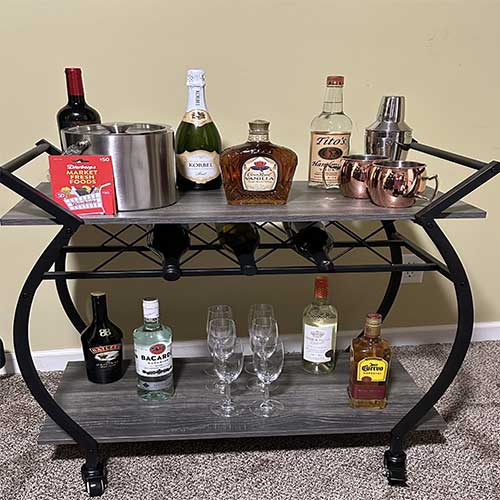 January
Cheers to the New Year!
BASKET CONTENTS
Drink Cart-Donated by the St. Joseph Athletic Association -$130 Value
Ice Bucket/Tongs
Drink Shaker
Moscow Mule Set
Champagne Glasses
Dierbergs Gift Card- $50
O'Kane's Kitchen Gift Card- $100
Assorted bottles of wine and alcohol-$150 value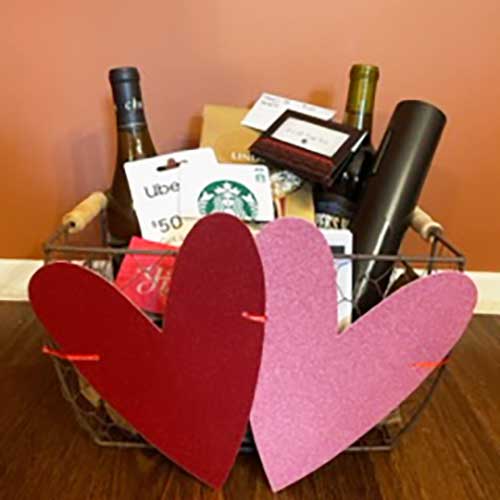 February
Date Your Valentine!
BASKET CONTENTS
Why celebrate Valentine's Day just once a year!? With this basket, you can celebrate your love all month, or yearlong! Dine on some yummy Italian, take in a movie, learn the art of making crepes, or relax at home with a bottle of wine!
$100 Gift Card to Tony's on Main
$100 Gift Card to Noto
$50 Gift Card to Café Napoli
$65 Gift Card for a French Crêpe-Making Class For Two at the French Crêperie (in Chesterfield). Build-Your-Own Sweet Crêpes – Drinks Included!
$50 Gift Card to The Flower Petaler
$50 Uber Gift Card
$50 Gift Card to Marcus Theaters
Coopers Hawk Red Blend Bottle of Wine
Coopers Hawk Chardonnay Bottle of Wine
Bag of Lindor Chocolates
Automatic Wine Opener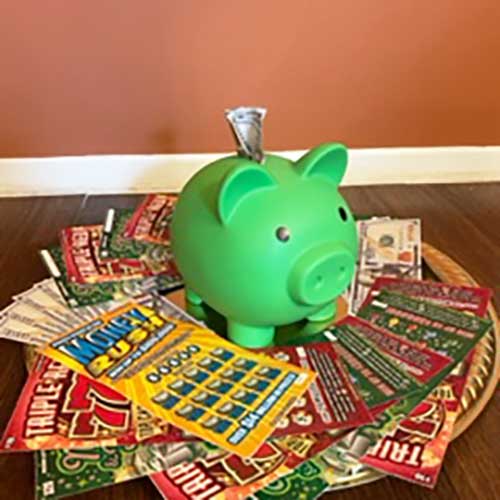 March
Stuff Your Piggy Bank!
BASKET CONTENTS
They always say to put money away for a rainy day so this is your chance to win big, and restock the piggy bank!
5 – $20 scratch offs
5- $10 scratch offs
2 – $5 scratch offs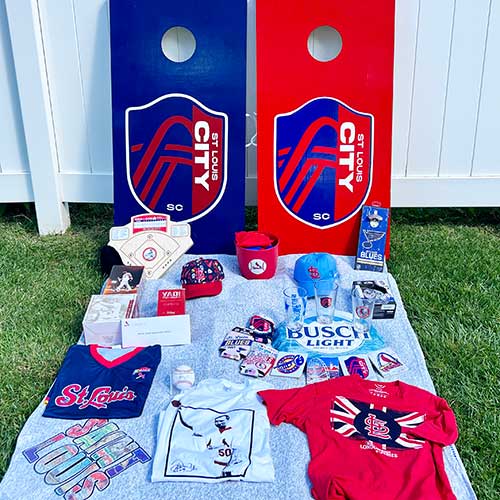 BASKET CONTENTS
Invaluable Cardinals Memorabilia
STL City Cornhole Set
St. Louis Cardinal Bucket
St. Louis sports theme drink coasters
St. Louis Blanket
Busch Light Bar Sign
Stan Musial Wooden Baseball Game
St. Louis Blues Bottle Opener
St. Louis Blues Spot It Card Game
St. Louis Sports theme bar glasses
St. Louis Sports theme koozies
4 Cardinals Lodge tickets to game of your choice along with 4 pregame field passes & 4 Redbird Club passes
Adam Wainwright autographed baseball
2 Cardinals hats
2 Cardinals t-shirts
St Louis Cardinals soccer jersey
Yadi tumbler
Paul Goldschmidt tumbler
Scott Rolen bobble head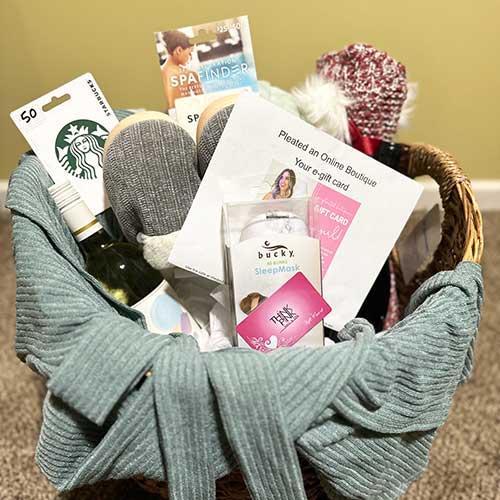 BASKET CONTENTS
Slippers
Comfy Socks
Sleep Mask
3-piece PJ set
Comfy Blanket
2 bottles of wine
Nail salon gift card $50
Starbucks gift card $50
Massage Gift card $100
Target Gift Card $50
Pleated Boutique Gift Card $50-Donated by Lisa Rose
Daniels Greenhouse-$100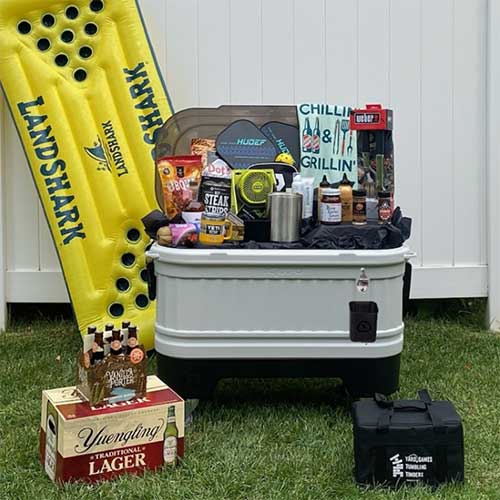 BASKET CONTENTS
Igloo Party Bar 125QT Cooler
Landshark Island Style Lounger Beer Pong Raft
Beer Pong Party Cup Set – LED Beer Pong Cups and Glow-in-the-Dark Balls
Yard Games Tumbling Timbers
(2) Pickleball Paddles with (4) Pickleball Balls
(2) Biofreeze Pain Relief Gel
(2) Biofreeze Pain Relief Spray
(1) Stopain Pain Relief Gel
Tabletop Fire Pit with Travel Bag
Yetti Coffee Mug
Ryobi Clamp Work Fan
Men's Chillin' & Grillin' Shirt
Slim Men's Wallet
Weber 2-Piece Stainless Steel Tool Set
Terrapin Ridge Farms Buffalo Ranch
Terrapin Ridge Farms Bang Bang Sauce
Chef James Steak Seasoning
Danny Cash All Purpose Seasoning
Bone Suckin' Sauce
Dot's Original Seasoned Homestyle Pretzels
Bold BBQ Trail Mix
Beef Steak Strips
24 Pack Yuengling Bottles
6 Pack Breckenridge Brewery Vanilla Porter Bottles
Walker's Cay Kentucky Straight Bourbon Whiskey
$25 Mannion's Market Gift Card
$25 Farm & Home Gift Card
$25 BeerSauce Shop Gift Card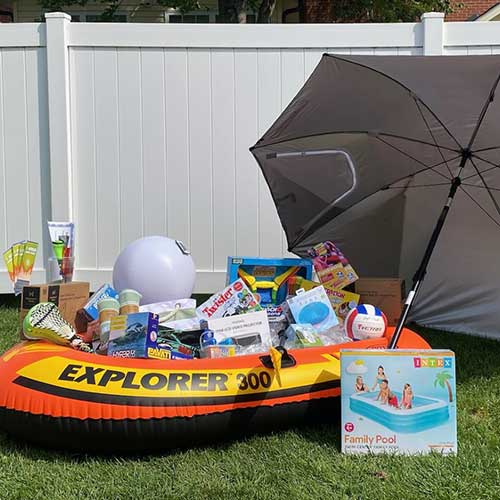 BASKET CONTENTS
Portable mini WiFi projector with carrying bag – compatible with TV stick, HDMI, USB, AV, PS4, IOS, Android, Laptops
Intex 120" x 72" x 22" Swim Center
Intex Explorer 300 Boat Set – inflated dimensions 83"x46"x16" (includes two 48" oars and 1 pump)
iLive LED Bluetooth floating pool speaker
Portable air pump with outdoor LED camping light and power bank function.
VETRA premium size 5 official soft touch volleyball for indoor/outdoor/gym/beach
SwimWays Coop Hydro Lacrosse
16" LED Inflatable light up beach ball with remote
Hasbro Twister Splash
Hasbro Operation Splash
Unicorn Ride-On Pool Float – Over 5 Feet Long
Dragon Ride-On Pool Float – Over 5 Feet Long
Pavati RC Wakeboard Boat 2.4 GHz Full Function
Bunch O Balloons Slingshot
22 Piece Sidewalk Chalk
Better Bubbles Starter Kit
Sport-Brella Premiere 8' Umbrella Canopy
(2) 39×71 inch oversized Turkish beach towels
Large (L22'xH15"xW6") Waterproof/Sand proof Beach/Pool Tote
2 B&B Theatre Courtesy Tickets
(9) Urban Air Ultimate Passes
(4) Rockin Jump One Hour Free Passes
Playtime Arcade & Bar Bucket of Goodies with an hour of FREE Mini Bowling for up to 6 Guests!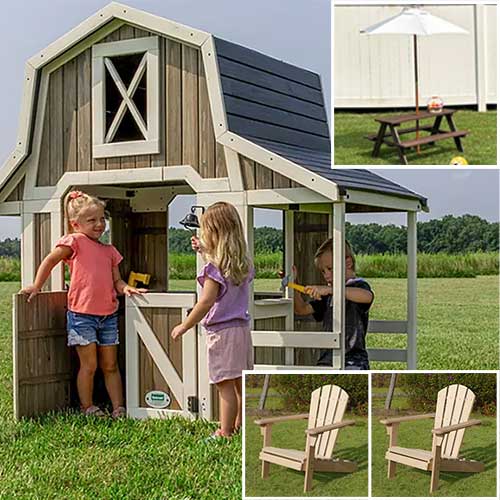 BASKET CONTENTS
Calling all hard-working cowboys and cowgirls! The Little Country Workshop from Backyard Discovery will have your littles busy fixin' and workin' all the livelong day.
Made from 100% cedar, this rustic functional barn house with hinged doors and a working dinner bell will spark country living in your own backyard.
Included are five play tools with a slotted workbench to assist with your children's imaginative play. Giddy up little doggies!
Backyard Discovery Little Country Workshop –
Playhouse Dimensions: 6'3″x 3′ 6-1/4″x6'1-1/2″ (WxDxH))
(Barn does not come assembled – kids not included

)
Honey Joy wooden picnic table & bench set with umbrella –
Bench Dimension: 28″x8.5″x11″ (L x W x H)
Table dimension: 28″x14″x21″(L x W x H)
Umbrella Size: 47″x 55″ (Dia. x H)
Hole for Umbrella: 1 Inch; Weight Capacity: 110 lbs.
Victostar Magnetic Wooden Cutting Fruits Vegetables Food Play Toy Set with Basket for Kids.
4-piece farm animal size 3 soccer balls for kids with pump
Galvanized Planter Box – 4'x2' (not pictured)
(2) Unfinished wood kids adirondack chair kit, chairs do not come assembled
Dimensions: 26.3"x 16.85"x 27.17" (HxWxD)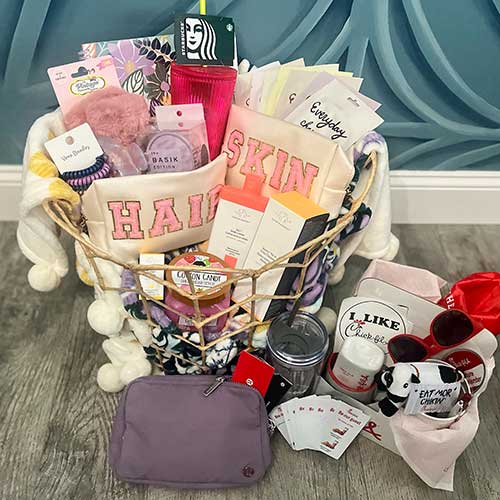 BASKET CONTENTS
Lululemon Everywhere Belt Bag – Large
$50 Lululemon Gift Card
Beste No. 9 Drunk Elephant Jelly Cleanser
Drunk Elephant Sili Body Lotion
Drunk Elephant Lippe Balm
Tree Hut Cotton Candy Shea Sugar Scrub
Facetory Facial Masks: Quantity 8
Scalp Massager
Makeup Head Band
Hair Accessories
Hair and Skin Cosmetic Bags
Vera Bradley Blanket
Vera Bradley Notebook
Starbucks Tumbler
$25 Starbucks Gift Card
$25 Applebees Gift Card
Wicker Basket
Chick-fil-A Swag (coffee cup, tumbler, sauce, bag and coupons – $40 worth of food)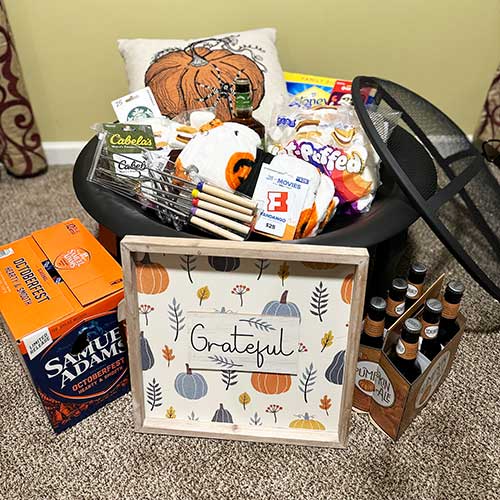 BASKET CONTENTS
Firepit
S'mores supplies
S'mores holders
Halloween Blanket
Fall picture
Sam Adams Oktoberfest
Schlafly 6pk
Jack Daniels
Halloween Pillow
Starbucks Gift card $25
Fandango Gift card $25
Target Gift Card $50
Cabella's Gift Card $50
Walnut Grill Gift Card $25-donated by owners of Walnut Grill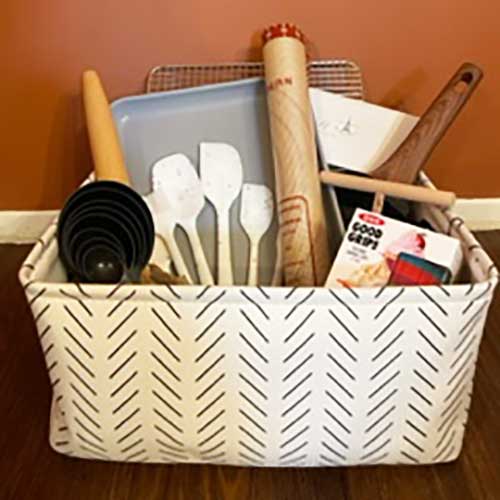 November
Bake Your Buns Off!
BASKET CONTENTS
With the holidays right around the corner, take the time to brush up on your baking/cooking skills! Take a class with friends learning how to make French crepes or sign up for a cooking class at Tasty Buds kitchen in O'Fallon. Amaze your friends with your new culinary talents and restock your kitchen with some baking essentials!
$280 Gift Certificate for a Private French Crêpe-Making Class for Eight at the French Crêperie (in Chesterfield). Drinks Included! – Donated by French Crêperie
Tasty Buds Kitchen $200 Gift Card
Caraway Non-Stick Ceramic Baking Sheet – Medium 10" x 15"; Non-Toxic, Free of PTFE, PFOA, PFAS, lead, cadmium, etc.
SheBaking Silicone Spatula Set, 6 piece heat resistant spatulas
ESLITE LIFE Non-Stick Crepe Pan with wooden spreader
OXO Good Grips Silicone Baking Cups; multicolor (Pack of 12)
Silicone Baking Mat, Extra Large 26" x 16", non-stick sheet mat with measurements
Ultra Cuisine Heavy Duty Cooling Rack, 11.5" x 16.5"
Muso Wood Wooden French Rolling Pin
Farberware Professional 10 piece plastic measuring cups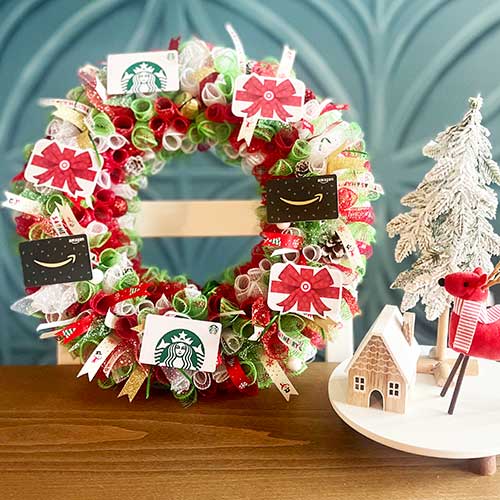 December
Christmas Shopping Spree!
BASKET CONTENTS
Wreath only (with Gift Cards)
$200 in Amazon gift cards
$150 in Target gift cards
$100 in Gingham's Restaurant gift cards
$20 in Starbucks gift cards
*Christmas wreath made and donated by Kathy Jacobs